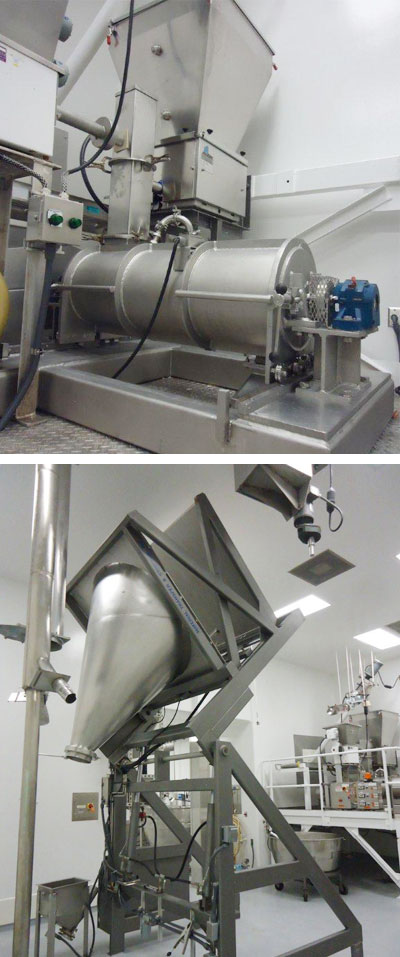 Global Leader Continuous Complex Granulation Technologies
Particle Dynamics produces highly functional particles that perform better. Our aqueous-based high shear, continuous granulation system is ideal for large volume continuous mixing, coating, hydrating and homogenizing applications that require very precise and very consistent particle sizing and functional specifications.
Supporting our commercial manufacture is an experienced R&D group with a complete range of equipment and technology that mimics our commercial scale processes. As a result, Particle Dynamics can rapidly take your concept from the lab to full commercial scale.
Based in St. Louis, Missouri, USA, our production facility operates to full pharma GMPs and has been FDA inspected. We operate to US FDA 21 CFR Part 210/211, 110/111, 117 and EU drug certification standards.
Continuous Complex Granulation – The Particle Dynamics Difference:
Our unique granulation system offers distinct advantages:
Multiple unit operations working in unison: All of our granulation and supporting equipment are designed for maximum efficiency and product quality
Multiple ingredient feeding system: allows multiple wet and dry ingredients concurrently
Increased flexibility: control of residence time, mix intensity or shear imparted to materials
Continuous process: means minimal lot-to-lot variation and larger batch size opportunity reduces testing costs
High density combined with excellent flow characteristics
Continuous Complex Granulation – Key Facts:
Location: St. Louis, Missouri, USA
Compliance: Complies with US FDA 21 CFR Part 210/211, 110/111, 117 and EU drug certification standards
Standard Products: Direct Compression Calcium Carbonate, Methylcellulose
Custom Products: Wide variety of Rx, consumer health, and nutraceutical products